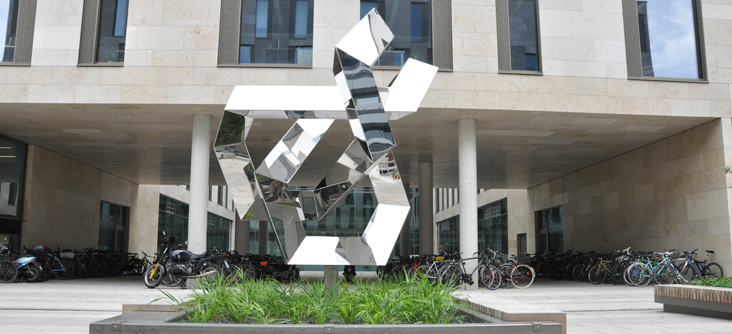 The IWR is an interdisciplinary research center for Scientific Computing which builds bridges across disciplines. It promotes mathematical and computational methods in science, engineering and the humanitites. Currently the IWR comprises more than 50 research teams from various faculties. Around 600 scientists work together in interdisciplinary cooperation projects. In addition to educating the next generation of excellent scientists the IWR also focuses on advacing international research networks.
22. März 2023
Kunstschätze für die Nachwelt erhalten: 3D-Scans im Museum "Keltenwelt am Glauberg"
Forscher des IWR kooperieren mit Kuratoren um historische Funde digital zu erfassen.
Während der Schließung des Museums "Keltenwelt am Glauberg" war eine Gruppe von Studierenden und Wissenschaftlern vom Interdisziplinären Zentrum für Wissenschaftliches Rechnen (IWR) der Universität Heidelberg unter Leitung von Dr. Susanne Krömker zu Gast beim Digital-Kurator Christoph Röder. Das Projekt ist Teil einer längerfristigen Kooperation mit dem Landesamt für Denkmalpflege Hessen.
Gemeinsam wurden Funde aus den Fürstengräbern - ein Gürtelhaken aus Bronze, eine bronzene Röhrenkanne mit feinsten Ziselierungen, und zahlreiche Gefäße in 3D erfasst. Die Objekte selbst wurden von erfahrenen Restauratorinnen aus den Vitrinen geholt und auf Drehtellern positioniert. Während die Röhrenkanne mit über 300 Einzelscans und dem feinsten Messfeld eines Streifenlichtscanners des IWR in drei Tagen kontinuierlicher Arbeit aufgenommen wurden, konnten im gleichen Zeitraum mit Handscannern und Digitalkameras photogrammetrisch mehr als zehn Tongefäße und weitere Einzelfunde erfasst werden. Dabei ergänzten sich die technischen Ausstattungen beider 3D-Labore und die unterschiedliche Expertise beider Gruppen optimal.
[Webseite Arbeitgruppe Dr. Krömker] • [Webseite Museums "Keltenwelt am Glauberg"]
Copyright Bilder: AG Krömker / IWR, Universität Heidelberg
---
January 13, 2023
Scientific Machine Learning: Kickoff on January 19, 2023
We are delighted to announce the launch of a new recurring series of talks and events on Scientific Machine Learning. The series kicks off on:
Thursday • January 19, 2023
from 16:30 to 18:00 at Mathematikon
Im Neuenheimer Feld 205, Conference Room, 5th floor
Machine Learning galore will feature lab presentations by PIs as well as scientific talks by junior scientists:
Machine Learning galore! - Programme:
Lab presentations:

Tilman Plehn, Rebecca Wade, Bernhard Höfle, Jakob Zech

Science talks:

Stefan Radev (Köthe lab): Modeling Uncertainty with Neural Networks
Theo Heimel (Plehn lab): Normalizing Flows for LHC Physics
Annika Reinke (Maier-Hein lab): Pitfalls and recommendations for image analysis validation
To help plan the catering, please register for free by clicking here.
Scientific Machine Learning is a joint initiative from STRUCTURES and IWR aimed at fostering interactions within and development of the local machine learning community. Its portal, http://mlai.uni-heidelberg.de summarizes the many relevant events and news from across campus that would otherwise remain scattered across single institutions or fields.
The goals of the MLAI platform align with the STRUCTURES Cluster of Excellence's objective of driving research into the fundamental understanding of current and future machine learning, and with IWR's aim to leverage machine learning to enable the solution of long-standing problems in the natural and life sciences, the engineering sciences, as well as the humanities.
Further information and links:
---