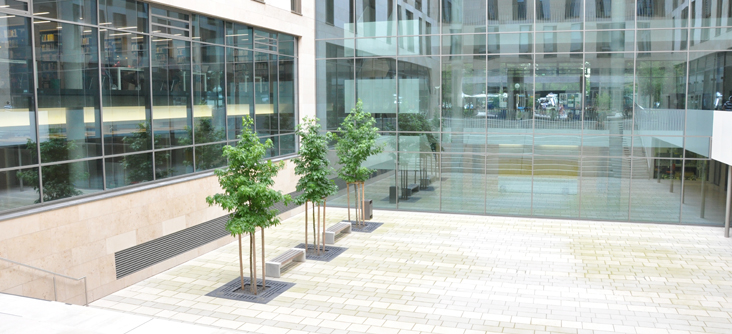 Transfer Activities Into Industry
Over the last years, IWR has been actively pursuing the transfer of technology from university to industry. This transfer happened in many different ways, ranging from exchange forums, an industry-on-campus project, and start-ups. The most prominent and most well-known technology transfer activity of IWR is the Heidelberg Collaboratory for Image processing (HCI), which is an industry-on-campus project founded in 2007. Over the years, five IWR members were actively involved in the HCI, Bernd Jähne, Fred Hamprecht, Björn Ommer, Christoph Schnörr and its current director Carsten Rother, and the HCI had nine industrial partners, Bosch, Bayer, Zeiss, Sony, Silicon Software, PCO, Heidelberg Engineering and Volume Graphics, three of them being spin-offs of members of IWR. Altogether, about 80 PhD students and Postdocs were working over the last 14 years at the HCI, and published over 300 articles.
At the HCI, basic research has been and is being conducted on image processing and machine learning, and the results are transferred to the industrial partners. The knowledge transfer encompasses software, data, patents, but also joint workshops at international conferences. The HCI has a cooperative research concept, in which a steering committee composed of industry and university representatives defines the long-term academic goals of the cooperation. By virtue of this unique funding model, industrially-motivated research can be embedded into a framework of basic, fundamental research. However, the last and final funding period of the HCI will end in 2022 and owing to its success, the cooperative research concept for transfer activities will be integrated into IWR as new overarching transfer strategy open for all its research activities.
The "Heidelberger Bildverarbeitungsforum", i. e. the Heidelberg image processing forum, was launched 20 years ago by Bernd Jähne, who is now a senior professor at IWR. The forum is a german-wide activity, embedded in the European Machine Vision association and scientifically closely connected to the HCI and aims at a bilateral exchange of information between industry, on one side, and universities and public research intuitions, on the other side. Therefore, three one-day events are organized each year focusing on a specific topic. For example, the 80th Forum was on "Deep Learning for quality-control and automation".
The strategic Committee for Mathematical Modeling, Simulation and Optimization (KoMSO) is funded by the BMBF and administered by and located at IWR. A central task of KoMSO is the initiation of innovative scientific projects in the field of MSO, by bringing together representatives of science and industry at events such as the KoMSO Challenge Workshops. It thus plays an essential role for intensifying national and international networking of Heidelberg University with industrial partners. It also serves as the German node in the European Network for Industrial Mathematics (EU-MATHS-IN).